Happy Thanksgiving!
The Gluten Free Nomad brings you the latest additions to the treasury of Traditional Foods from Around the World that are Gluten Free, as well as information and stories from readers like you.

If you like this e-zine, feel free to forward it to your friends.


---
Special Thanksgiving Edition, November 22, 2011

Welcome to the 2011 Thanksgiving Edition of The Gluten Free Nomad, where you'll learn about new Thanksgiving Tips and Recipes posted at Gluten-Free-Around-The-World.com. There's also an easy fresh cranberry sauce recipe below, and a holiday half price offer.

If the links below don't work, copy and paste them into your browser.

---
What's for Thanksgiving at Gluten Free Around The World?

Thanksgiving Traditions can be a challenge when you're gluten free. But there's no reason to give up the traditional stuffing, gravy and pies. These recipes and tips will help you make a memorable meal for everyone. The regular eaters won't know the difference.

At Gluten Free Around The World you'll find:


#1) Gluten Free Thanksgiving tips for making great stuffing (use broken up rice cakes) and gravy.


#2) Gluten Free Pie Crust Recipe This is my often requested recipe for tender and flaky gluten free pie crust.


#3) Easy Sweet Potato Casserole This recipe comes from South America, where sweet potatoes are thought to have originated.

If you love ginger and sweet potatoes, treat yourself and your family to this dish. It's a favorite at our Thanksgiving gatherings. My friends who don't eat grains eat this for dessert, as if it were a pie.



---
Super Easy Fresh Cranberry Sauce Recipe
This one isn't posted yet, but is so good I wanted to share it with you. There's no added sugar or fake sweetener, and no cooking.
1) Place in food processor and process until ground up fairly evenly:
1 bag rinsed cranberries
1 orange, cut into eight pieces or more
2) Add to taste and process to desired consistency:
Thawed concentrated orange juice
3) Chill until ready to serve
---
Limited Time Holiday Offer
For a limited time I'm offering the Gluten Free Cakes eBook for only $4.97, less than half price, to subscribers of this ezine. Did you like the free eBook? This one is even better.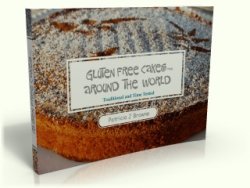 Know any cake lovers? The holidays are a wonderful time to try new things, and baking traditional cakes from other traditions can be a lot of fun, especially when you have willing tasters!
Pop over to Gluten Free Around the World and check out the eBook of Gluten Free Cakes From Around The World.
Come back here and click this link to get your discount . But don't wait, this really is a holiday discount. I'm not sure how long the offer will be available.
---
This Gluten Free Cakes eBook offer is available to anyone signed up for this free E-zine. So if you know someone who would like it, please invite them to come over to the site and sign up by copying this link and sending it to them in an email: https://www.gluten-free-around-the-world.com/gluten-free-nomad.html Be sure to let them know that subscribing is free.
---
If a friend forwarded this to you and you like what you read, please subscribe by visiting...
The Gluten Free Nomad subscribe page
...and download your free ebook of Easy Gluten Free Recipes.
---