GLUTEN FREE CAKES
FROM AROUND THE WORLD
Thank you for your interest in Gluten Free Cakes from Around The World. The e-book is a fabulous collection of traditional cakes that are gluten free by tradition, not altered to be gluten free. Many are also dairy and casein free, and there's a non-dairy topping to die for.
These recipes have accumulated over my 25 years of baking gluten free, and my friends encouraged me to share them.
There are recipes of all kinds: flourless, grain free cakes and cakes with grains like rice and corn. There are almond flour recipes and nut-free recipes.
And many mouth-watering flavors, including chocolate, orange, lemon, almond, cinnamon. It's a culinary tour of the favorite cake recipes of many traditions.
Some are famous cakes, like the Sachertorte from Vienna; Mazurka, a Russian Easter Cake; Parozzo, a chocolate covered dome cake from Pescara, Italy; and Mohntorte, a poppy seed cake from Germany that has "sister" cakes in many other central and eastern European countries.
Others may not have recognizable names, but they are typical of certain regions, such as the cornmeal cake from Carcoforo, Italy, and the lemon almond cake typical of the Mediterranean coast of Spain. There's a super easy version of it, too.
I've had a ball collecting and baking recipes for traditional gluten free cakes over the last 25 years, and my many tasters and gluten free friends have been after me to put them into a book. So here it is. Yes, it's finally done, and available for everybody!
What People are Saying About The eBook:
I really like this concept, cakes that have been historically gluten-free from various cultures around the world. Even more appealing, some recipes are grain-free and some are dairy-free as well.
Shelly Stuart, The Celiac Nurse
I tried the chickpea cake, and although I had to get used to the idea, I really liked the taste of it! So did my 9 year old son. I would've never thought of baking a cake with chickpeas. So surprising!
Sabine Leitner – de Potter, Celiac coach
This is the book I wish I had
when I switched to living gluten free.
In the eBook are recipes for all the famous gluten free cakes listed above, and more, as well as many non-famous but treasured recipes of many countries and traditions.
The recipes are grouped by ingredients. The main categories are:
Part 1: Grain-Free Cakes These include many varieties of flourless cake made with nuts, as well as flourless chocolate cakes and cakes made from potatoes, beans, and cassava. A few examples:

Easy Almond Cake Recipe (Spain)
Almond Layer Cake this one has no sweetener except for the filling! Great for sugar sensitive people with fruit filling. (Austria)
Hazelnut/Almond Carrot Cake (Switzerland)
Chocolate Truffle Cake (Switzerland)
Poppy Seed Cake (2 recipes, one from Czech Republic and one from Germany)

Part 2: Cakes With Grains These cakes contain rice, corn, quinoa or amaranth.

Lemon Polenta Cake (Italy)
Bolognese Rice Cake (Italy)
Cornmeal Cake with Honey and Walnuts (Italy)
Piñon Torte (Southwest American Indian)
Sand Cake (Italy)




Each of Parts 1 and 2 are divided into cakes with nuts and cakes without nuts, for people who have nut allergies. And chocolate is sectioned out too.
Part 3 is a collection of fillings and toppings, divided into dairy and non-dairy in case you are sensitive.
Dairy toppings and fillings include whipped chocolate cream, orange cream, chocolate ganache, chocolate glaze, caramel glaze.
Non-Dairy toppings include nut creams, lemon or lime glaze, and a chocolate glaze.
The nut creams are not traditional, but a wonderful alternative for dairy and casein free folks, and they are egg free and vegan, too. The chocolate variation makes a wonderful "fudge" after a night in the refrigerator.
This evening we had a nice BBQ with friends at our home and as a dessert I served the Spanish cake (with almond flour and eggs). They all loved it, and both of my children kept begging for more! We ate the whole thing at once.
I will gladly recommend this to my clients!
Sabine Leitner – de Potter, Celiac coach
Why are there so many kinds of
traditional gluten free cakes?
Recipes, like people, have traveled through many countries and left "offspring"—regional variations on the original.
As a result it's not always possible to know the origins of recipes.
What is possible is to enjoy them. And that means a lot if you have a gluten intolerance or wheat allergy.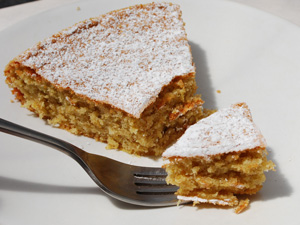 Lemon Almond Cake
Click image to enlarge.
Once you learn about all the traditional gluten free cake recipes that people have enjoyed for centuries, switching over to a gluten free lifestyle won't be so challenging. In fact, you may learn to love it.
Gluten-free cakes have been around forever, in some cases due to religious restrictions like Jewish Passover, and often because gluten containing grains like wheat, rye and barley weren't available, as in Latin America.
But even where those grains were available, they were often too expensive due to taxes, or they were only allowed for the nobility.
So people learned to make their favorite cakes with the ingredients they had. And then proceeded to perfect them over time. Now we get to savor them!
The great thing is, these cakes can easily be served to people without them thinking you are trying to feed them something weird. Foreign maybe, but they are so good you will wow your friends and family, and maybe even convince them to come along on your gluten free adventure.
This book is filled with incredible gluten free cakes from around the world. The recipes are gluten free by tradition, not altered to be gluten free.
My children are excited about this book. After all, what child doesn't like cake :) I like the fact that they will be exposed to different cultures through food.
Shelly Stuart, The Celiac Nurse
Ready To Order?
Gluten Free Cakes From Around The World costs only $7
That's less than you would spend on dessert for 2 at a modest restaurant. That is, unless you spend nothing because there is nothing on the menu you can eat. If you've shared that disappointment, you will love having this ebook.
The recipes you will get are not only tested by time, they are recipes that would take years to collect on your own.
The nut cakes and bean cakes are healthy, high protein treats that go beyond satisfying your sweet tooth. They are just plain satisfying, especially when made with palm sugar.
Coupled with the nut topping you can't go wrong when it comes to healthy.
But there are lots of options here, both healthy and decadent. Some recipes are dairy and casein-free, but there are also recipes that are laced with butter and cream if that's what you like.
Here's what you'll get:
Over 50 recipes for gluten free cakes, toppings and fillings

Cake baking tips

A discussion of ingredients

Some history

Measurement Conversion Table

Temperature Conversion Table

NEW! Free Updates when I add new content like photos, and casein free and sugar free versions of the recipes


AND

A 100% unconditional 60 day money-back guarantee
Traditional Gluten Free Cake Recipes From Around The World
Recipes of all kinds: flourless, grain free cakes
and cakes with grains like rice and corn.
Almond flour recipes and nut-free recipes.
Chocolate, orange, lemon, almond, cinnamon:
many mouth-watering flavors, many traditions.



Wow your friends and family for just $7
What happens after you click the buy now button?
You will be taken to a page where you can choose to use PayPal or a credit card to make your purchase. When your payment is complete, click the button that says "Complete Purchase".
That will take you to a page where you can download the eBook. But don't worry if you miss it, you will also receive an email with a download link.