Keep in Touch with
The Gluten Free Nomad
Do you love learning about the amazing variety of interesting traditional foods? Are you, or is someone you know, on a gluten free diet?
There's an endless supply of foods from around the world that are traditionally gluten free. Why be bored? Come with me while I discover and post new foods and recipes from hidden corners around the globe. It's easy to get distracted and forget to come back.
Sign up for my free monthly e-zine: The Gluten Free Nomad, and enjoy getting occasional reminders in your inbox.
You'll receive monthly updates about what's new at Gluten Free Around The World.com, and you can download my free eBook: Easy Gluten Free Recipes from Around The World.
As soon as you confirm your subscription I'll let you know how to download your FREE e-Book. It includes easy gluten free recipes I've collected from around the world, as well as some of my non-traditional favorites.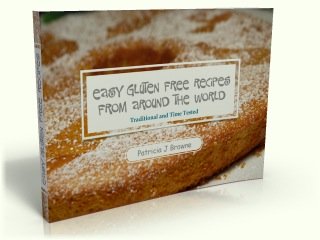 Find out more about the e-book here.
After you subscribe by filling in your email and name above, I'll send you an email asking you to confirm your subscription. (This cuts down on spam.) As soon as you confirm your subscription, I'll tell you how to download the eBook.
Check out back issues of the Gluten Free Nomad here.
Return from The Gluten Free Nomad to Gluten Free Around The World Home
---