Happy Easter and Happy Passover!
The Gluten Free Nomad brings you the latest additions to the treasury of Traditional Foods from Around the World that are Gluten Free, as well as information and stories from readers like you.

If you like this e-zine, feel free to forward it to your friends.


---
Special Easter and Passover Edition, April 6, 2012

Welcome to the 2012 Easter and Passover Edition of The Gluten Free Nomad, where you'll learn about Foods and Recipes suitable for both Easter and Passover, since they can be easily made without leavening. There's also a Super Easy Recipe for a traditional lemon flavored Potato Sponge Cake that's great for Passover or Easter.

If the links below don't work, copy and paste them into your browser.

---
A Gluten Free Easter and Passover Tip
Passover is a Jewish holiday where it is forbidden to eat anything with leavening, which eliminates normal breads and desserts. Although unleavened bread, or matzo, contains gluten, a lot of traditional Passover food does not.
As a result you are likely to find many gluten free Passover foods at this time of year in your grocery store. Look for them especially after Passover, when you may find some bargains. Be sure to check labels though, as many mixes and Passover foods contain matzo, which is made from wheat and contains gluten, or other gluten containing ingredients.
The link between Gluten Free Easter Recipes and Passover Food
Gluten Free Easter Recipes can be challenging when you really want something special. And Passover food can be challenging too, when you are used to relying on leavening for making things rise.
Baking with almond flour or potato flour has been traditional for Passover desserts for centuries, since leavening other than eggs is not necessary.
At Gluten Free Around The World you'll find almond and potato flour recipes, and many that don't rely on leavening other than eggs. The ones that contain baking powder can easily be made without it for Passover, simply by folding in more beaten egg whites.
Gluten Free Easter Recipes and Passover Food

Because the recipes at Gluten-Free-Around-The-World.com rely mostly on eggs to make them light, I've had success leaving out the baking powder or soda for my Jewish friends at Passover, and they've been a big hit.


#1) Almond Flour Recipes: many flourless cakes and cookies suitable for both Passover and gluten free Easter.


#2) Discovering the Almond Cookie. A page that surveys the range of almond cookies from around the world.


#3) Lots of Gluten Free Cookie Ideas. Many types of cookies from many countries, made with everything from rice to corn to chocolate, even some from beans.


#4) Gluten Free Recipes of all kinds from unleavened breads and cookies to meals, side dishes and delicious soups.





---




Super Easy Lemon Potato Sponge Cake Recipe
Serves 6 to 8

Be sure to use potato starch, and not potato flour that's ground from dried potatoes, if you want the same results. (But if you want to experiment, go for it!)



Ingredients are in bold. Powdered sugar for dusting is optional.



1) Preheat oven to 350ºF (180ºC)
Grease a 9 inch (23 cm) springform and dust with potato flour

2) Prepare the cake batter:
Beat 7 large egg whites with a pinch of salt until stiff.
Beat in another bowl until well blended:

9 egg yolks
2 egg whites
1¾ C sugar
juice and zest of one lemon

Gradually add 1 C minus 1 Tbsp potato starch and beat well.
Carefully fold in the beaten egg whites
4) Bake in preheated oven for 40–50 minutes.

Cool on wire rack and sprinkle with powdered sugar if you like.



Recipe adapted from The Fanny Farmer Cookbook




---
E-Book of Gluten Free Cakes from Around The World
I'm now offering the Gluten Free Cakes eBook for only $7. Did you like the free eBook? This one is even better, and great for Passover as well as Gluten Free Eaters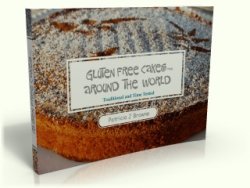 Know any cake lovers? Easter or Passover are wonderful times to try new things, and baking traditional cakes from other traditions can be a lot of fun, especially when you have willing tasters!

Pop over to Gluten Free Around the World and check out the eBook of Gluten Free Cakes From Around The World.
---
If you know someone who would like this newsletter, please forward it to them.
---
If a friend forwarded this to you and you like what you read, please subscribe by visiting...
The Gluten Free Nomad subscribe page
...and download your free ebook of Easy Gluten Free Recipes.
---