Almond Crescent Cookies
Almond Crescent Cookies come in many varieties.
They may also be called
almond horns
. Some are made with almonds or almond paste and no flour, and they're traditionally gluten free. They show up on the dessert trays of many countries, where they are favorites especially at Christmas.
Varieties include Provençal crescents from the south of France, which have glacé fruits in them, and German almond crescents dipped in chocolate.
The recipe below is much simpler, and is made with prepared almond paste. Be sure to check labels when you buy
almond paste
, as many brands contain gluten.
Easy Almond Crescent Cookies Recipe
Makes 2 Dozen Almond Crescents



gluten free
wheat free
flourless
casein free
grain free
Ingredients are in bold.
Extra powdered sugar for dusting is optional.
1) Preheat oven to 300ºF
Cover cookie sheets with parchment paper.
2) Prepare the cookie dough:
Soften 1/2 pound almond paste with your hands or a food processor.
Add and blend thoroughly:

1/2 C powdered sugar
1 egg white
3) Shape the cookies:
Divide dough in half, and roll each half into 9 inch long rolls.
Cut each roll into twelve 3/4 inch pieces, and roll into balls.
Spread out 1/2 C sliced almonds on a sheet of waxed paper, roll the pieces in the almonds, and shape into crescents.
4) Bake:
Place on cookie sheets and let them rest 20 minutes.
Bake 20 minutes.
Place the paper sheets on a damp cloth and allow the cookies to cool, then remove from the sheets.
Recipe was adapted from The Fannie Farmer Cookbook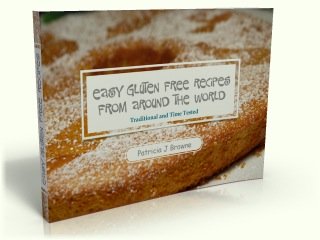 Get an eBook of easy gluten free recipes just for signing up for my FREE monthly ezine.


---
Return to Gluten Free Christmas Cookies
Return from Almond Crescent Cookies to GF Around The World Home
---