Lovely Corn Free and Gluten Free Cookie Recipe
by Mary
(Oregon)
From Mary: Wonderful corn-free and gluten free cookie recipe (with substitution of homemade corn-free and gluten free vanilla extract) for those of us with dietary limitations.

It was super easy to whip up and I added a sprinkling of a cinnamon-sugar mix (heavy on the cinnamon!) on the top prior to baking.

I used blanched almond flour and ½ cup of cane sugar and, next time, will use either less sugar or agave and perhaps unblanched almond flour.

I think I will prefer a less meringue-like, and more dense, cookie but this is a super easy, great tasting basic recipe with which to experiment. Thanks!

Mary




Click here to post comments.





Pat's comments:


Mary: I'm so glad you like the cookies. I've never tried them with that much sugar. The ones I've made have been pretty dense and chewy, I wonder if the extra sugar made them more "meringue-like". Great idea to top with cinnamon sugar.

I would love to hear if you try them with agave and/or unblanched almond flour. I think that combination has potential, because unblanched almond flour soaks up more moisture. So the liquid in the agave would be soaked up, at least partially, by the almond skins. Please let us know if you try it.

Also, I would love to know how you make your corn and gluten free vanilla. If you get a chance, please post your recipe as a comment...I'm sure other people would like to have it too.

Pat

---
Drooling Over Cakes?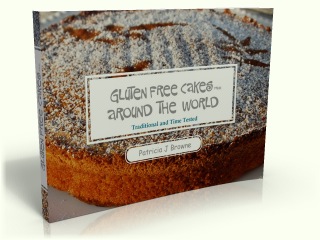 This eBook has an amazing collection cake recipes that have been historically gluten-free from various cultures around the world. Many recipes are grain-free and dairy-free as well.
There are recipes of all kinds: flourless, grain free cakes and cakes with grains like rice and corn. Almond flour recipes and nut-free recipes. Chocolate, orange, lemon, almond, cinnamon: many mouth-watering flavors, many traditions.

The book I wish I had when I switched to living gluten free.
---
You may also like:
Gluten Free Cookie Recipes From Around The World
Traditional Gluten Free Cookies To Look For
Gluten Free Cake Recipes
---
<!—POPULAR PAGES NAVIGATION CODE STARTS HERE -->
<!—POPULAR PAGES NAVIGATION CODE ENDS HERE -->