The Best Classic Macaroon Recipe
If you're looking for an easy almond macaroon recipe you've come to the right place.
gluten free
wheat free
flourless
casein free
grain free
Macaroon cookies come in many varieties and flavors, including many types of almond macaroons. They can also be made with other nuts, coconut, chocolate, or any combination. But most recipes contain the same 3 basic ingredients: egg white, sugar and nuts.
This is a simplified version of classic French macaroons. They belong to the category of almond paste macaroons, and have a thin crackled crust and deliciously chewy interior that clings to your teeth.
The best place to start is with a macaroon cookie recipe that can be made quickly and with little effort. These classic french macaroons are simplified by using blanched almond flour. (Or whole blanched almonds if you prefer.) They belong to the category of almond paste macaroons.
---
Classic Macaroon Recipe
Makes 2 Dozen Crackled French Macaroons
Ingredients are in bold.
1) Preheat oven to 300ºF
Cover cookie sheets with parchment paper or newsprint. *TIP
Buzz together in food processor until light and mixed well, stopping and scraping down the sides occasionally:

2¼ Cups (9oz) blanched almond flour (OR 1½ Cups whole blanched almonds *See how.)
1 Cup sugar



Transfer sugar / almond powder to a mixing bowl and beat for 4 minutes with:

2 large egg whites
A pinch of salt
3) Shape the cookies:
Divide dough in half, and roll each half into 9 inch long rolls.
Cut each roll into twelve 3/4 inch pieces, and roll into balls.
Place on cookie sheets and flatten slightly with the back of a spoon.
Let the cookies rest for 1 hour before baking, so they form a crust that crackles.
4) Bake:
Place the baking sheet on top of an empty baking sheet to protect the bottoms.
Bake in the middle of the oven for 12-15 minutes, or until they barely start to brown.
Cool on a rack, remove from the paper, and store in a cookie tin.
This macaroon recipe was adapted from The Cook's Canon : 101 Classic Recipes Everyone Should Know  and  The French Cookie Book  
---
TIP from the bakers at The French Cookie Book
: Put a dab of cookie dough under the four corners of the parchment to hold it in place.
*INGREDIENT TIP : If you don't have almond flour, you can make the sugar / almond powder with whole blanched almonds. It's very noisy, so you may want to wear ear plugs.
Buzz together in food processor, scraping down sides and breaking up any lumps, until finely ground but not oily:

1½ Cups blanched almonds 
½ Cup sugar



Sift through a medium sifter or sieve to remove large pieces, then grind those with another 

---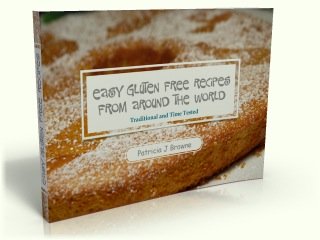 Get an eBook of easy gluten free recipes just for signing up for my FREE monthly ezine.