Mexican Taco Recipes
Can Be Easy or Extra Easy
Mexican taco recipes can be so easy it can be a matter of pulling out some leftovers, reheating them, and folding between soft tortillas or crisp taco shells, then adding cilantro and chopped onion, or shredded lettuce and salsa if you prefer.
You don't even have to make them ahead: you can have the ingredients ready and everybody can make their own, right at the table.
I had them served to me this way at a restaurant in Mexico. You simply ordered the type of meat you wanted, and they brought the rest.
I now live in an area that has lots of Mexican taquerias, and usually the tacos are served on soft tortillas, with some kind of meat, chopped onions, and cilantro. Salsa is available so you can add your own.
One Of My Favorite
Mexican Taco Recipes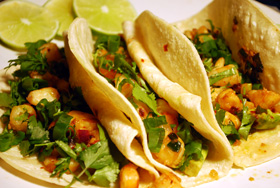 Mexican Taco Recipes: Soft Shrimp Tacos
Click image to enlarge.
One of my favorite taco recipes is for soft shrimp tacos, pictured here. You can also make these with fish, or ground meat.
These are really simple, but require just a little bit of effort compared to the tacos I described above. That effort will reward you with mouth-watering gourmet tacos like you've never tasted before.
If you try this recipe, or have a favorite you prefer, please consider sharing it.
Soft Shrimp Tacos
Serves 2 but is easy to scale up

1 T olive oil
2 medium shallots, chopped fine
3 large cloves garlic, minced

8 oz medium shrimp, peeled and chopped in thirds
1 t crushed red chilis or med chili powder

Garnish:

2 scallions, chopped
cilantro, chopped
lime wedges

Sauté the shallots in the olive oil for a couple minutes on medium heat.

Add and sauté the garlic for a minute or so.

Add the crushed chilis and shrimp and sauté until the shrimp is cooked through, another minute or two.




Warm 2 or 3 tortillas per person on a griddle, or in the microwave wrapped in a cloth napkin or towel. They warm quickly, but it depends on how hot your grill or microwave is. Four super size corn tortillas heat in my microwave in about 50 seconds.

Place shrimp in a line down the center of a warm corn tortilla.

Sprinkle with chopped scallions and cilantro, and a squeeze of lime.

Buen Provecho!