Recipes For Celiac Disease
Recipes for Celiac Disease include any recipes that don't contain gluten, which is in wheat, rye, and barley. Some Celiacs are sensitive to oats as well.
All of the recipes on the site
are suitable for Celiac Disease
Celiac recipes also can't contain any derivatives of wheat, rye, or barley, such as triticale, kamut, and spelt. Nor should they contain products with hidden gluten. Examples include barley malt, which is found in many breakfast cereals and baked goods, and soy sauce, which usually contains wheat. Learn more about the sources of gluten here.
Don't let Celiac Disease Restrictions Scare You
Even though the restrictions are enough to scare you into thinking you can't eat anything anymore, the reality is that recipes for gluten intolerance are limitless. Once you discover the list of gluten free foods that come from many cultures, having Celiac disease can become an adventure.
All of the gluten-free recipes on this site are safe for Celiacs, and if you sign up for my free monthly ezine, you will learn when I post new recipes. And you can download, for free, my ebook of Easy Gluten Free Recipes.
Check out this list of gluten-free recipes. Or share your favorites over at the Gluten Free Recipe Exchange. And help make someone else's Celiac journey a little easier.
---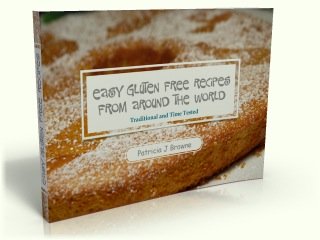 Get some really easy recipes for Celiac Disease by signing up for my FREE monthly ezine