Thank you
Hi Pat - I just wanted to thank you for such a great resource. I have been inspired! GAB




Pat's reply:


Hi G,
Thanks so much for your comments, they mean a lot to me! I'm really happy I've been able to inspire you, and I hope you will in turn share that inspiration with others... Have fun!
Pat

---
Drooling Over Cakes?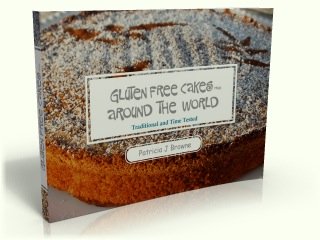 This eBook has an amazing collection cake recipes that have been historically gluten-free from various cultures around the world. Many recipes are grain-free and dairy-free as well
There are recipes of all kinds: flourless, grain free cakes and cakes with grains like rice and corn. Almond flour recipes and nut-free recipes. Chocolate, orange, lemon, almond, cinnamon: many mouth-watering flavors, many traditions.

The book I wish I had when I switched to living gluten free.
---
You may also like:
What are the Celiac Disease Symptoms?
What Is Celiac Disease?
What is Gluten Sensitivity?
---
<!—POPULAR PAGES NAVIGATION CODE STARTS HERE -->
<!—POPULAR PAGES NAVIGATION CODE ENDS HERE -->
<!—BOTTOM NAVBAR CODE STARTS HERE -->
Blog | About | Contact | Disclaimer | Privacy Policy | SiteMap | E-zine
<!—BOTTOM NAVBAR CODE ENDS HERE -->
<!—WEBSTAT CODE STARTS HERE -->
<!—WEBSTAT CODE ENDS HERE -->